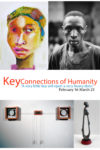 "A very little key will open a very heavy door." — Charles Dickens. Thursday, February 16th, from 5:00 pm to 8:00 pm Matt McLeod Fine Art Gallery is hosting the opening reception of
Key Connections of Humanity, exhibition, featuring the paintings of Angela Davis Johnson, photography of John David Pittman, and sculpture by David Clemons and Bryan Massey. Refreshments will be served. The exhibition begins February 16th and ends March 23rd.
Key Connections of Humanity is an artistic examination of African experience and culture in Arkansas, America and the world abroad. "An artistic discussion about race can be heavy," says gallery owner Matt McLeod. "But it's a door we need to open up a little more right now. The artist's voice challenges us to the important dialogue about humanity – painful and joyful."
Key Connections of Humanity includes new work from Arkansas artist Angela Davis Johnson, now living and working in Atlanta, GA. Davis Johnson's latest work seeks to give voice to missing and exploited women of color. "Even if you are missing, you should still have visibility." Says, Johnson. "Yet, too often black and brown women around the world are lost and taken without consistent vigilance. These paintings of Nigerian girls are a call to bare witness to their loss. To witness is to become aware; within awareness lies the possibility to make changes in the world."
A recent addition to the Matt McLeod Fine Art is the imagery of local photographer, John David Pittman. Pittman's work is featured in Key Connections of Humanity with a series of black and white photographs from a recent trip to Kenya. Pittman's haunting portraits reveal the lamentable present-day lives of Kenyan children. "What I'd like people to understand about the young people in my photos is simply that they are real and they are beautiful." Says Pittman. "The horrors they've endured are real. Their pain is real. It's easy to disconnect from the reality of human crisis when it's on the other side of the world, but these beautiful children are real and we can help them. Blue Door Sponsorship is helping them."
Partial proceeds from the sale of Pittman's photographs, both in the gallery and online, will be contributed to Blue Door Sponsorship. Begun by 14-year-old Little Rock native, Abby Fegtly, Blue Door sponsorship partners with ABC Center to sponsor children rescued by the international educational program. Together, ABC and Blue Door Sponsorship spread hope by providing children with food, education, medical care, and a spiritual family.
For more information about the Key Connections of Humanity exhibition, please call Matt McLeod Fine Art Gallery at 501-725-8508. You can also email us at support@mattmcleodgallery.com. Visit our website at www.mattmcleodgallery.com.
###