Learn To Paint Energetic Color.
Spring Painting Workshop With Matt McLeod.
Make Your Paintings Pop!
• Learn To Use Color That Crackles With Energy.
• Create Compositions That Cannot Be Ignored.
• Create Canvases That Are Provocative and Vibrant.
Wednesday - Friday • May 15-17 • 9:00 a.m. - 4:00 p.m.
Pulaski Heights Christian Church
$300 • Limit 12 Students(11 remaining)
Click Here to Reserve Your Place!
McLeod Named Featured Artist
Of The Thea Foundation Fine Arts Festival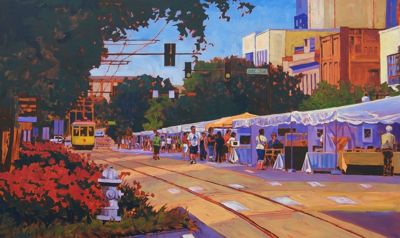 It was a great festival!
I hope I got a chance to talk with you there.
This festival painting is available for purchase.
Partial proceeds will benefit the Thea Foundation.